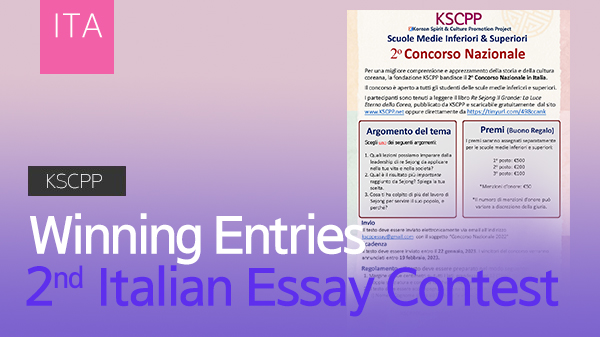 We would like to extend our deepest gratitude to all those who participated in KSCPP's 2nd essay contest in Italy.
We hope that our contest gave everyone an opportunity to experience the true spirit of Korea.


This year's winners are as follows:

Group A: Middle school (Scuola Media)

---
Special Award for writing with distinction (Premio speciale per la scrittura con distinzione):
Desirèe Gigliola Caddeo, Padre Vincenzo Zasio
Group B: High School (Scuole Secondarie Superiori)

---
1st Place: Nicole Giambenedetti, IIS Galileo Galilei Jesi
2nd Place: Carlotta Guardati, I.I.S. Liceo Lucio Anneo Seneca
3rd Place: Lorenzo Rosi, Liceo Scientifico Claudio Cavalleri

Honorable Mentions:
● Sara Nofrini, Liceo Classico Lucio Anneo Seneca
● Chiara Cuozzo, I.I.S. Liceo Lucio Anneo Seneca
● MELANIE NUNNARI, IIS Galilei Jesi,
● VASILICA APUCALOAEI, IIS Galilei Jesi

Thank you again for all your great efforts,
and please look for our next essay contest announcement.